Some schools are breaking barriers with their alternative models for education, unique programs and projects, forward-thinking, and innovation. If you haven't considered non-traditional programs, these schools may be worth exploring.
Here are seven of our favorites:
1. Phenomenon-based Learning and Teacher-preparation Program:
Shady Hill School, Cambridge, MA
Phenomenon-based learning, developed in Finland, is a style of teaching where a classroom asks questions about a real-world topic, then spends time analyzing, researching, and understanding the topic through an interdisciplinary approach.
Shady Hill School in Cambridge, MA, uses a form of phenomenon-based learning called Central Subject, which puts a deep focus on a single theme or year-long topic for students in grades 3-8. For example, Grade V students study the Central Subject of Modern & Ancient China for the entire year, beginning with geography, food, education, and entertainment, and progressing through how cultural belief systems arise, as well as the influence of charismatic leaders on a society. By the end of the year, students will conduct group and personal research projects on topics related to modern and ancient China.
Additionally, the school has the nationally known, yearlong teacher-preparation program that provides aspiring teachers a mentored, hands-on teaching experience in K through 8 classrooms. Apprentice teachers train under experienced educators, and, in turn, these mentors reflect on their practice as well as learn about innovative trends and best practices in education from the apprentices. This, in turn helps improve the learning experience for students and families too!
For more information you can visit Shady Hill's website at www.shs.org
2. Horse Program and Outdoor Programs:
The Thacher School, Ojai, CA
At The Thacher School in Ojai, CA, students in their first year are a part of the Horse Program, where they face "real work and real responsibility" as they are paired with a horse and are required to ride and take care of the horse for the entire academic year. This includes mucking stalls before class in the morning, feeding horses in the evening, and learning riding skills in the afternoon. Beyond the first-year horse program, every student will go horse camping at least once during their time at Thacher.
Thacher also hosts an Outdoor Program and its own basecamp in the High Sierra called the Golden Trout Wilderness School. This camp offers educational programs and wilderness training for students of all years and experience levels. The school's location just on the edge of the Los Padres National Forest and other wilderness areas allows for a plethora of different kinds of backcountry trips and opportunities for rock climbing and kayaking.
You can learn all about the program at it's website here: www.thacher.org
3. Flight Lessons and High Flight:
Randolph-Macon Academy, Front Royal, VA
Ever wanted to learn how to fly and operate aircraft as part of your high school education? Randolph-Macon Academy, a college-prep school for students in grades 6 through 12 in Front Royal, Virginia, offers a flight program that allows students to take flight lessons in school-owned aircraft (the school owns two Cessna 172 planes). Lessons are taught by flight instructors who are part of the faculty. On average, six to eight students achieve solo flight each year, with another two to four earning their private pilot certification.
This year the school is also introducing a year-long class this year called "Unmanned Flight Operations" where students will be introduced to the aeronautical science of small UAVs, and provided with the instruction needed to take the exam to earn a Remote Pilot Certification, and learn about professional applications. Students will have full access to the school's two Quadzilla quadcopters and six Blade Nano QX quadcopters during their time in the course.
Additionally, the school offers an elite and selective program called the High Flight program for students who are interested in becoming military officers, either through a service academy or via an ROTC program. These students are given mentors who are familiar with the service academy application process, have their classes tailored to what the service academy will want to see, and receive additional resources for SAT/ACT preparation. These students also participate in a rigorous physical training program and serve as leaders within the cadet corps while in school.
You can learn all about Randolph-Macon Academy at the school's website here: www.rma.edu
4. Farm-based Learning:
The Mountain School, Vershire, VT
The Mountain School is a semester long program where 45 academically motivated high school juniors come together to live and work on the school's farm in rural Vermont. Students are required to work together to meet the labor requirements of the farm, and have morning chores as well as an afternoon work period. In between, they attend regular academic classes, and many AP classes are offered.
The program is academically rigorous, while also allowing students to engage in meaningful work and develop a realistic perspective on farming through daily jobs that are essential to keeping the farm running.
The Mountain School also hosts an Outdoor Program to help students develop the skills to travel safely and comfortably outside, camp with minimal impact on the land, and to understand the intracacies of the natural world. Students gain proficiency in map and compass skills and basic camping techniques on weekly hikes and solo camping trips.
You can learn all about the program online here: www.mountainschool.org. The application deadline for sophomores to attend during their junior year is February 15th, 2018.
5. Ocean Classroom:
Proctor Academy, Andover, NH
Proctor Academy, a boarding high school in Andover, New Hampshire, offers students the unique opportunity to board the traditional schooner Roseway and study off-land, as they spend a semester voyaging along the eastern U.S. seaboard and into the Caribbean. The program was started in 1994 and every year since, Proctor has sent 20-22 students to sea for 9 weeks. Students are not passengers on the vessel, but active crew members on the 135 foot tall ship, working in watches that work for 24 hours a day.
While onboard, students earn school credit in courses like Marine Science, which includes topics such as dolphin behavior studies and the physics of sail theory, Maritime Literature, which covers works such as Captains Courageous, The Sea Wolf, and Rime of the Ancient Mariner, Maritime History, Navigation and Applied Mathematics, and Ocean Classroom Skills, which encompasses all of the work that a student does as an active member of the crew.
In 2016, Proctor's student crew became the first U.S. tall ship to sail into Havana Harbor in Cuba since 1960.
You can learn more about the program here.
6. Language immersion & world accessibility:
Avenues: The World School, New York, NY and Sao Paulo, Brazil
Though most schools have world language departments, not all of them can boast a bilingual, immersive experience. At a language immersion school, students are taught both in English and in a second language in mutliple topics outside of the foreign language classroom, including math, science, or social studies. At Avenues: The World School, students in preschool through 5th grade spend 50% of their time learning in English, and 50% of their time learning in either Mandarin Chineses or Spanish.
Beyond this bilingual immersion program, Avenues' long-term plan is to create multiple campuses around the world which will be synced in curriculum, so that the institution will truly be a "world school" in which faculty will collaborate in the design of global curriculum, and students will be able to study at different campuses on different continents throughout their educational lifetime. Currently, the school has a main campus located in New York City, and a second campus in Sao Paulo, Brazil, set to open in August of 2018.
7. Online Gifted Education:
Stanford Online High School, online
Online education and gifted education have both been options for families for years now, but Stanford Online High School, founded in 2006, is the first ever school to synthesize both of these into an online education for the gifted. The school offers 23 post-AP and university level courses online, and students are placed into classes by ability rather than by age ro grade level. Classes have sizes of 12 students, and meet twice a week in online seminars.
In addition to classes, the rest of student life takes place online as well, including assemblies and events, clubs, homeroom, and student government. Students also have opportunities to participate in activities on the Stanford University campus, including the summer at Stanford program and graduation weekend.
Stanford OHS now offers enrollment for students in grades 7 through 12. You can learn more about the school on its website here.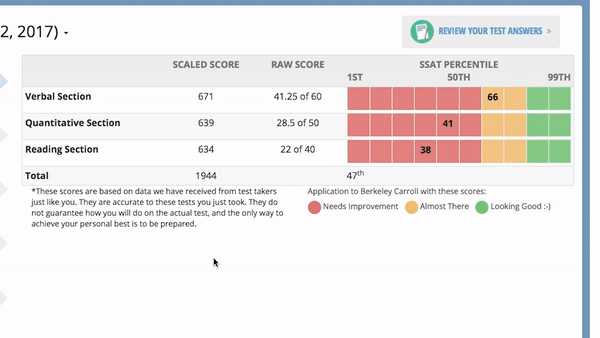 With Test Innovators, you can easily see which scores make you a competitive applicant for admission to schools around the world.