Test Innovators has helped more than 65,000 students prepare for the standardized tests required for admission to the most competitive independent schools in the country. Below is our updated list of the 15 most competitive schools in New York, based on the number of students who stated their intention to apply in 2017.
Note: This list is solely based on anonymized user data from our ISEE and SSAT prep platforms. This list does not, therefore, include any schools that require different entrance exams such as the HSPT or SHSAT.
Horace Mann, founded in 1887, is an independent college preparatory school located in the Bronx, and one of the most competitive schools in the country. The school is perfect for an ambitious writer: the school newspaper, The Record, was established in 1903 and has won numerous journalism awards over the years, staffing students who have gone on to win Pulitzer Prizes for their work as journalists. The school also made national headlines in 1954 by translating a copy of the The Record into Russian and distributing it in the USSR. You can go on a virtual tour of the school here.
The Riverdale Country School, located in the Bronx within a mile of Horace Mann, is an independent school for students in Pre-K through grade 12. The school is located on a 19.5-acre campus with views of Van Cortlandt Park. The most recent headmaster of the school, Dominic A. A. Randolph, redefined the school's mission, which now has a focus on promoting character strengths like grit, optimism, honest, and social intelligence. Riverdale also offers "maker" programs that combine science, technology, engineering, arts, mathematics, robotics, and coding.
The Dalton School is a private, coeducational college preparatory school in the Upper East Side, located in three buildings within Manhattan. The school was originally founded by Helen Parkhurst, a revolutionary educator who founded the "laboratory plan" in which students are able to work independently on projects with the help of teachers, rather than listening to lectures and lessons by the teacher. Today, the school still uses the Dalton plan to structure its educational goals. It is one of the most competitive schools in the nation.
Poly Prep Country Day resides on two campuses: the Middle and Upper Schools on a 24-acre grassy campus in Dyker Heights, Brooklyn and the Lower School on an indoor campus in Park Slope, together offering classes for students in nursery through 12th grade. The school offers a progressive liberal arts curriculum and 18 Advanced Placement classes per year, as well as signature programs including partnerships with non-profits Beat the Streets, CitySquash, and Fencers Club, and hosting a one-day conference called the Women's Innovation Symposium in Engineering.
Ethical Culture Fieldston was founded in 1878 as a free kindergarten by Felix Adler, a German-American educator and social reformer who believed that the children of the poor should be as educated as their wealthier peers. The school was expanded to include additional grade levels, and as wealthy parents sought out the school because of its academic reputation, the school began charging admission and expanded to accommodate the upper class. Today, the school resides on two campuses, Ethical Culture in Manhattan and Fieldston in the Bronx.
Collegiate School, originally founded in 1628 by the Dutch West India Company and the Dutch Reformed Church for the colonists of New Amsterdam, is one of the oldest schools of any kind in the United States. Today, it offers a K-12 education for boys on the Upper West Side. The school is currently building a new campus at 301 Freedom Place South, which will be a nine-story building with almost 180,000 square feet of space for learning, athletics, arts, dining, and administrative spaces. It is set to open in January 2018.
The Packer Collegiate Institute is an independent day school for students in preschool through grade 12, located in Brooklyn Heights. It is the oldest independent school in Brooklyn, originally a school for girls until 1972. Packer has recently grown its profile to become one of the more well-known schools in New York, and in that process, has worked to not lose its identity. You can read a 2012 New York Times article on the school and its growth here.
Hackley is a K-12 day and boarding school located in the village of Tarrytown in Westchester County. The school was originally founded by Mrs. Caleb Brewster Hackley, a wealthy widow and philanthropist, who gave her summer mansion to the Unitarian church. The school now sits on a 285-acre campus with a performing arts center, 2 libraries, 5 art studios, 7 computer labs, and a forest which includes 6.5 miles of hiking trails, outdoor classrooms, a field biology research area, and a wetlands facility, in addition to many other spaces.
The Masters School is a boarding and day school for students in grades 5-12 located on a 96-acre campus in Dobbs Ferry, New York, just 12 miles north of New York City. The school uses the Harkness method, which sets students around an oval table to discuss ideas in an open-minded environment with little teacher intervention. In 2015, the school opened the Fonseca Center, a 75,000 square foot space which includes state-of-the-art athletic and arts spaces including a swimming pool, gymnasiums, an art gallery, and a digital media arts lab among other facilities.
The Nightingale-Bamford School is a girls' school on the Upper East Side that provides a liberal arts education for students in grades K-12. The school recently renovated over 80% of the school house and added more than 20,000 square feet of new spaces including a black-box theatre, a fitness center, brand new art studios and science labs, libraries, a makerspace, and a greenhouse. The school places emphasis on public speaking skills from an early age with presentations and other projects, and during the spring of senior year students have the option of dropping other courses to study a topic of their choice in-depth, which culminates in a final project.
Brooklyn Friends School is a preschool through 12th grade independent Quaker school located in Downtown Brooklyn. BFS is one of the few independent schools in New York City to use the International Baccalaureate (IB) Diploma program, which is an academically rigorous two-year course in junior and senior year of high school. The school bought space to create a brand-new Upper School building in 2013, which includes four visual art studios, three music studio classrooms, four science laboratories and a black box theatre classroom among other spaces.
Columbia Grammar is one of the oldest private schools in the United States, originally founded in 1764 by Columbia University as a way to prepare incoming college freshman for the academic curriculum. Currently, the school offers a rigorous and comprehensive college preparatory curriculum for students in grades PK-12 with an emphasis on art, music, and drama. Tuition can be more than $49,000 for a 12th grader, but don't let that scare you away: the school gave 7.5 million dollars in financial aid in 2017-2018.
Rye Country Day is a Pre-K through 12 school located in Rye, New York. The school, originally founded as a seminary, promotes moral responsibility with a focus on service: the school's motto is "Not for Self, But for Service". The school operates on a six-day cycle rather than a five-day week: this allows students more time to pursue elective courses, meet with teachers, schedule co-curricular activities, and connect with friends.
Convent of the Sacred Heart is New York City's oldest independent school for girls, originally established in 1881. It is part of the larger network of Sacred Heart schools, an association of over 150 Catholic independent schools. Today, Convent of the Sacred Heart in New York is located in Manhattan and offers a challenging academic curriculum which emphasizes and values social justice as much as academic achievement, and offers over 19 different advanced placement classes.
The Brearley School is an all girls' school for students in grades K-12 located on Manhattan's Upper East Side. It was originally founded in 1884 as one of the first schools just for women. The school has incredible academics in addition to opportunities for extra curriculars like Self-Government (student government), service learning, school publications, athletics, and the arts. In the spring of their senior year, students explore a senior project, which could be an internship, experience, or in-depth study on a topic of their choice.
You can view the ISEE and SSAT score data we have on these and other schools here for the ISEE, and here for the SSAT.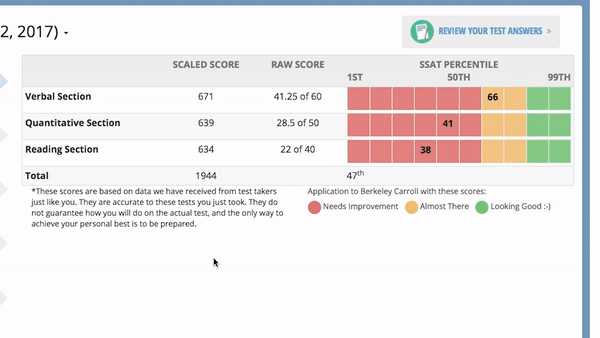 With Test Innovators, you can easily see which scores make you a competitive applicant for admission to schools around the world.