Since 2012, Test Innovators has helped more than 65,000 students prepare for the SSAT and the ISEE, the admissions tests required for applications to the most competitive independent schools in the country. Every year we review our data from thousands of test-takers to find out the schools that students are most interested in applying to.
This year's results have arrived! Below is a list of the top 25 most sought-after middle schools, based on the number of students who stated their intention to apply in 2017.Remember: there are a plethora of wonderful schools which may be the perfect fit that may not be on this list.
Looking for high schools? You can view our list of the Most Competitive High Schools of 2017 here.
Harvard-Westlake is an independent coeducational and college preparatory school for students in grades 7-12. The school has a separate Middle School campus just for grades 7-9, located in the Holmby Hills neighborhood in western Los Angeles. Harvard-Westlake has a challenging academic program that can be compared to college academics in terms of the breadth and depth of classes available.
Milton Academy is a K-12 boarding and day school in Milton, Massachusetts. The school, founded in 1798, is over 200 years old. Students in the Middle School attend small classes and are not given official grades, but rather detailed comments on their intellectual and personal growth. Middle schoolers have their own learning space but are also able to take advantage of access to the Upper School's facilities, teachers, and programs in academics, arts, athletics, and co-curricular activities.
Menlo is an independent college preparatory school in Silicon Valley. It has a separate middle and high school, which are close to one another but separate facilities with some overlapping administration. The smaller Middle School has a student-teacher ratio of 11:1 and an average class size of 15 students.
Noble and Greenough, a weekday boarding and day school for students in 7th through 12th grade, just celebrated its 150th birthday last year. Nobles' Middle School prides itself as having a challenging academic environment. Enjoy theatre? Good news – every student in 7th grade takes an 8 to 10 week Drama course, in addition to the extracurricular Middle School production in the winter, and an all-school musical in the spring.
Horace Mann, founded in 1887, is a K-12 day school in Bronx, NY. The school's Middle Division, for students in grades 6-8, provides a challenging and engaging program. The school has an iPad and digital learning program for all middle schoolers, as well as a plethora of activities, sports, and opportunities to explore a variety of academic areas.
6. Riverdale Country School, Bronx, NY
The Riverdale Country School is a day school for students in preschool through 12th grade. The middle school provides a challenging curriculum with close supervision and support by "homebase" teachers, grade-level coordinators, and student deans for each grade. Middle schoolers are encouraged to try many different co-curricular activities so that they can make decisions about which interests, talents, and passions to explore in greater depth in high school and beyond.
Boston Latin school is a six-year college preparatory school that dates back to 1635. The school seeks to ground its students in a contemporary classical education that prepares them for successful college studies, responsible and engaged citizenship, and a rewarding life. The academic curriculum is rigorous, but middle schoolers are supported by programs like Saturday Success School and a drop-in tutoring program after school for students in grades 7 through 9.
Sidwell Friends is a day school for students in grades K-12. The Middle School is split into combined 5/6 and 7/8 structures for Lower and Upper Middle School students, and these groups take classes on separate floors. The school has a 1:1 laptop program for middle school students, as well as a "Minimester" where students spend the four days before spring break engaged in a concentrated area of interest outside the classroom, sometimes even outside the city or even the country.
The Dalton School is an independent day school for students in grades K-12. The Middle School program begins in 4th grade and ends in 8th grade. The Middle School provides a transition for students between the self-contained classrooms in the First Program (Lower School) to the departmentalized High School. Students find support with House Advisors who act as advocates and mentors. Some notable programs for middle school students include the Dalton Museum Program for all grades and an archaeology program for students in 6th grade.
Lakeside School, a day school in Seattle for students in grades 5 through 12, is "a place for curious minds". The school provides a relevant, challenging, and interdisciplinary academic curriculum, as well as experiential programs like Global Service Learning, outdoor, and service learning. There are 272 students in the Middle School.
Poly Prep Country Day's Middle School resides on a 24-acre pastoral campus in Dyker Heights, Brooklyn. 5th and 6th graders learn with a theme-based interdisciplinary curriculum, while 7th and 8th grade students have individual schedules with room to explore additional academic areas of their choosing. By the end of eighth grade, all students will have completed at least one year of high school mathematics, one year of a modern language, and one year of high school Latin.
The Harker School in San Jose is a college prep school for students in preschool through grade 12. In middle school, students experience a well-rounded education with an innovative curriculum and enriching extracurricular activities. Harker's 12-acre middle school campus facilities include 46 large classrooms, a theatre, library, two gymnasiums, two playing fields, six tennis courts, and a grassy amphitheater.
Crystal Springs Uplands School is an independent day school for grades 6-12. The school has a brand-new middle school campus that just opened in autumn of 2017. It is located in Belmont, CA, and has a stunning view of the San Francisco Bay and nearby Waterdog Lake. There are approximately 200 students in the middle school, where students are encouraged to explore all of the academic disciplines. The school also has a 1:1 iPad program for students in 6th through 8th grade.
14. Buckingham Browne & Nichols, Cambridge, MA
Buckingham Browne & Nichols is a day school for students in pre-Kindergarten through 12th grade. The Middle School encompasses 7th and 8th grade, and the campus is housed in an old Victorian house on a residential street a short walk from Cambridge's Harvard Square. At the Middle School, the curriculum taps students' growing potential for critical thinking, their penchant for risk-taking, and their expanding awareness of self while exploring themes relevant to them.
Ethical Culture Fieldston was founded in 1895 by Felix Adler, a German-American educator and social reformer. The Fieldston Middle School program curriculum emphasizes critical-thinking skills, multiple forms of literacy, quantitative reasoning, self-regulation, and organization. The school also has a robust arts program and many athletic and co-curricular opportunities. The Middle School is currently celebrating its 10th anniversary this year as a specific division.
Newark Academy was founded in 1774 and sits on a 68-acre wooded campus in Livingston, NJ. There are 181 students in the Middle School in grades 6-8. "Experiential learning" is a part of every day in Middle School, where students take an active role in their own learning. That could mean anything from designing and building a sustainable house, creating a cardboard roller coaster, or working on a grade-wide theatre production.
The Rivers School, originally founded in 1915 as a school for boys, offers a rigorous college preparatory program in a caring, supportive community: the school has a six to one student to teacher ratio. The Middle School has around 120 students in grades 6, 7, and 8, and does not use a formal grading system but instead detailed teacher comments. Writing is a particular focus, as well as the planning and execution of long-term projects, many of which culminate in special presentations.
Hopkins School is the 3rd oldest independent school in the country, as it was originally founded in 1660. Today, the school educates students in grades 7-12 in small classes: the average class size is 12 students. The Junior School, for students in 7th and 8th grades, is a small community within the school, with shared spaces and experiences between 7th and 8th graders. Students have an adviser in each grade who can act as an advocate and guide for students' academic and extracurricular careers at Hopkins.
Polytechnic School is a college preparatory school established in 1907 that was founded on the principles of academic excellence, personal and communal responsibility, and service to others. It was the first nonprofit independent school in Southern California. The Middle School, for students in grades 6-8, has around 215 students in attendance. Once a week the school implements a Block schedule which allows students to participate in one-and-a-half or two-hour Block classes and activities which cannot fit easily into standard 45 to 50 minute time slots. For example, hiking/outdoor education, debate, community service, cooking, rocket-building, newspaper, academic teams, and more.
Head-Royce School is a nationally recognized K-12 independent school situated in the hills of Oakland, California. The school's mission is to inspire a lifelong love of learning with a focus on scholarship, diversity, and citizenship. The school implements a modified block schedule for Middle Schoolers which allows for a combination of long blocks and short blocks for in-depth learning. There are 270 students in grades 6-8.
Woodward Academy, Atlanta's oldest college preparatory school, provides a challenging educational experience for students in pre-kindergarten through 12th grade. The Middle School, for students in grades 7 and 8, offers a robust academic program in addition to co-curricular academic activities like the Odyssey of the Mind, Robotics Team, and Debate.
22. Georgetown Day School, Washington, DC
Georgetown Day School is a preK-12 private school, founded in 1945 as Washington's first racially integrated school at a time when all schools in DC were segregated by race. The Middle School, for students in grades 6-8, engages students in hands-on learning projects like a science fair, on-site studies of the Chesapeake Bay, and a two-month study of Constitutional issues that includes conversations with national experts.
23. Holton-Arms, Bethesda, MD
Holton-Arms School, a college preparatory school for girls in grades 3-12, was originally founded in 1901, nineteen years before women had the right to vote. The Middle School for students in grades 7 and 8 has high academic expectations, in addition to special programs like "Outside-the-Box" days where students are offered a break from their regular class schedule in order to embark on activities designed to broaden their perspective and enhance the regular curriculum.
Pace Academy, founded in 1958, is well-known in Atlanta for its iconic Kirkpatrick Hall, the school's original classroom building which looks just a castle. (It now houses Pace's administrative offices). The Middle School's curriculum stresses an integrative approach to STEAM (Science, Technology, Engineering, Arts, and Mathematics), with project-based learning and problem-solving techniques. Classes in STEAM for middle schoolers include the construction of Rube Goldberg machines and the deconstruction of computers, robotic programming and design, computer programming, photography, and videography.
Maret School, originally founded in 1911 by three French teachers (and sisters), is now a co-ed college preparatory day school with 650 students in grades K-12. The Middle School for students in grades 5-8 introduces challenging academics in the subjects of English, history, human development, Latin, library/research skills, math, music, physical education, community engagement, science, world languages, technology, and art. In addition to regular extracurriculars, each student also joins a committee or circle. Committees are action-oriented leadership groups on topics like Current Events or Technology, and circles are interest-based activity groups like Meditation or Theatre Games.
You can view the ISEE and SSAT score data we have on these and other schools here for the ISEE, and here for the SSAT.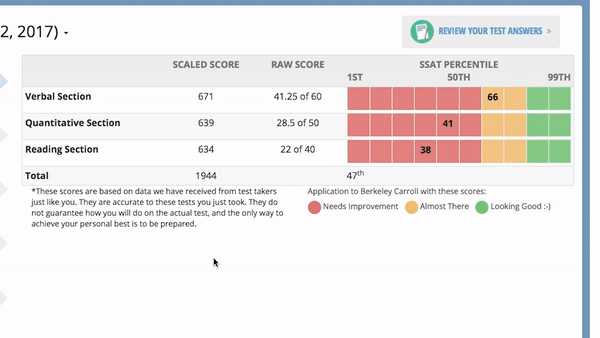 With Test Innovators, you can easily see which scores make you a competitive applicant for admission to schools around the world.