What is a good score on the SSAT? That's a question we get asked a lot here at Test Innovators. Maybe you just got your score report back, or perhaps you've just taken a practice test and wonder whether or not your scores are acceptable.
The first consideration in evaluating a good or a bad score is to make sure you understand how the SSAT is scored and how to read your SSAT score report.
Even if you do know how the test is scored, determining a "good" score versus an average score or a bad score is not always easy unless you know what kinds of scores are expected from the schools you're applying to.
Different schools require different test scores from their candidates for admission, so a good score for one school may be an average or low score for another. Check out the list of target scores for admission to different schools.
There are also many factors at play in the admissions process beyond test scores, which are just one aspect of a student's overall application. Most applications to schools include some combination of test scores, grades, teacher recommendations, essays, interviews, and other criteria, which is all weighed in your overall application.
This means that even if you were to score in the 99th percentile, you would still not necessarily be guaranteed admission to every school. Sometimes the broader application speaks more about a student and determines their admittance. That said, test scores are still important, and you definitely don't want your scores to be a barrier for admission to a certain school. It is important to try your hardest and get as high of a score as you can in each section: even if you know that a school doesn't weigh test scores highly in judging applicants, it's still a good idea to aim for as high of scores as possible in order to stand out from other students applying.
Here are a few pieces of advice we have:
First of all, make sure to apply to all of the the schools you want to attend. You may find that you don't get into your first choice of school, and it helps to have a backup. Applying to a set of schools is always a good idea.
Secondly, prepare early and take practice tests. If you find that there are concepts you don't know yet, consider finding a tutor who can teach you concepts and strategies to approach different types of questions that appear on the test. We have fantastic tutors who are here to help you do the best you can on the SSAT. Learn more about tutoring and schedule a free consultation with one of our tutors.
Lastly, remember to relax. Many students (and parents!) ask if they should be afraid of the test, and the answer is no. Any student can do their best on the test, it just takes some practice and dedication.
A problem that many applicants to private schools face is that there are more qualified students than schools have space for. This is why many schools have such long waiting lists - the pool of students is so great that they can't take everyone.
It's important to talk to your child about how rejection from a school is not a judgement on their worth or capability as a student, because there are many factors at play when it comes to the admissions process, including cultivating a diverse student body.
There are also a bevy of fantastic schools all across this country, so getting rejected from one single school does not in any way mean that you'll miss out on receiving a stellar education. At Test Innovators, we are here to help you improve your test scores, which will help your chances of getting into a school that is right for your and help you pursue a great education.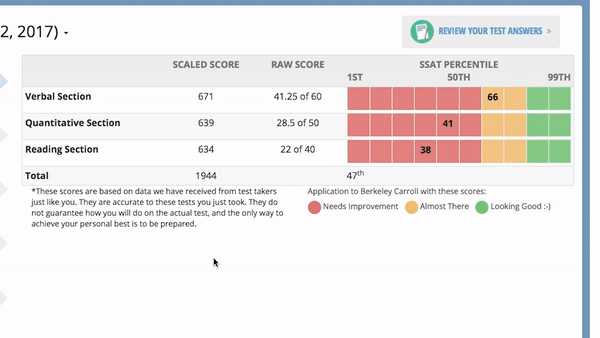 With Test Innovators SSAT practice tests, you can easily see which scores make you a competitive applicant for admissions to schools across the country.
Get Started with Your SSAT Prep!