Test Innovators has helped over 65,000 students prepare for the standardized tests required for admission to the most competitive independent schools in the country since 2012. Every year we review our data to determine that year's most competitive schools. Below is our list of the 10 most competitive schools in the Greater LA area, based on the number of students who stated their intention to apply in 2017.
Note: This list is based on user data from our ISEE and SSAT prep platforms, and does not, therefore, include any schools that require different entrance exams such as the HSPT or other tests.
Harvard-Westlake, originally founded when the Harvard School for Boys merged with the Westlake School for Girls in 1991. Today the school educates around 1600 students in grades 6 through 12 on two campuses, a campus for students in grades 7-9 in Holmby Hills and an upper school campus in Studio City. The academic excellence is unrivaled – in the graduating class of 2017, there were 25 National Merit Finalists, and 75 with Letters of Commendation.
2. Polytechnic School, Pasadena
Polytechnic School, a K-12 school in Pasadena, covers 15 acres and is adjacent to the Caltech campus. Founded in 1907, Poly was the first nonprofit, independent school in Southern California. Today, the school offers global programming, athletics, outdoor education, community outreach, arts, and more than 17 AP courses. In 2017-2018, 80% of seniors were accepted at "highly-selective" universities (institutions with an admittance rate of 30% or lower).
3. Crossroads, Santa Monica
Crossroads School for Arts & Sciences in Santa Monica is a K-12 school founded in 1971. The name "Crossroads" was inspired by Robert Frost's poem "The Road Not Taken," and the school certainly lives up to its commitment to the road "less traveled by" in progressive education. Human Development is its own department, and a defining component of Crossroads' curriculum across all thirteen grades – this includes classes in environmental and outdoor education, life skills, community service and service learning, and physical education.
Windward School in Los Angeles' Mar Vista Neighborhood was established in 1971 by Shirley Windward and Carl Parsons, who founded the school to provide classes for local students on the west side of Los Angeles. Today, the school is an independent day school for students in grades 7-12 on a nine-acre campus, providing innovative programs and facilities on campus like the Center for Teaching and Learning, iPads for all students, the CREATE Studio, and a peer-to-peer writing center.
Brentwood School is an independent K-12 school located on two campuses four blocks apart in Los Angeles' Brentwood Neighborhood. The school was founded in 1972 when Brentwood School acquired the existing Brentwood Military Academy. Today, Brentwood serves over 1000 students. The school offers over 25 advanced placement classes, as well as special programs like the Young Women's Conference at Brentwood School, a bi-annual conference designed to empower young women, which has hosted guests like Mary J. Blige, Reese Witherspoon, and Mindy Kaling.
Flintridge Preparatory School, situated at the base of the San Gabriel Mountains in La Cañada Flintridge, is a school for students in grades 7-12. The school is known for its rigor and commitment to a "well-rounded" education which encourages both sports and academics. New and recently renovated spaces across the campus include art studios, science labs, athletic facilities, food services, and the Chandramohan Library.
The Archer School for Girls was founded in 1995 by three women who believed in the power of single-sex education for girls. In just over 20 years, Archer has grown to a school that holds nearly 500 students in grades 6-12 on a seven-acre campus in the historic former Eastern Star Home for Women on Sunset Boulevard in Los Angeles' Brentwood neighborhood. Academics and learning are highly collaborative, real-world focused, and research-based.
Thacher is a coeducational boarding high school located at the food of the Topa Topa Mountains in Ojai, California. The school believes that happier students achieve at a higher level, so the school works hard to ensure that students achieve balance between achievement and health and happiness. The school's 427-acre campus allows unique programming such as the Horse Program where every first year student is paired with a horse the first week of school and required to ride and care for the horse for the entire school year.
Campbell Hall School is a K-12 Episcopal day school located in Los Angeles' Studio City neighborhood. Two days a week, students and faculty attend chapels which encourage reflection and a commitment to bettering the world. The academics encourage a community of inquiry, and offer many honors, advanced placement, or online university courses. The school also uses a 75-minute rotating block schedule to allow time for each class to become full engaged in research, lecture, discussion, or projects.
Sage Hill School is an independent college preparatory high school located in the town of Newport Coast in Orange County, about 50 miles southwest of Los Angeles. The school offers a rigorous and competitive athletics program, and academics in small, seminar-style classes, with more than 30 AP, accelerated, and post-AP classes. The school also is home to the Spring at Sage program, which allows students to participate in an intensive seminar, group travel, or independent service or research program during the one week following spring exams.
You can view the ISEE score data we have on these and other schools here.
Find out your chances of getting into these and other schools with a full length ISEE practice test from Test Innovators.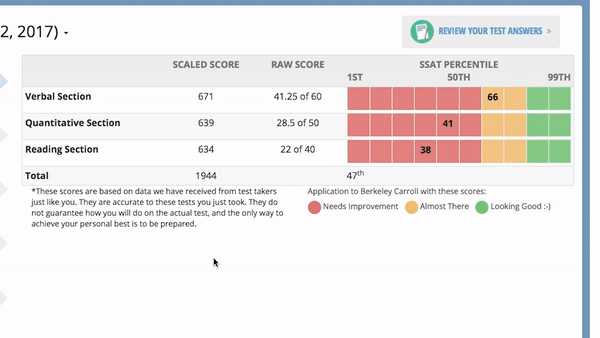 With Test Innovators, you can easily see which scores make you a competitive applicant for admission to schools in Greater Los Angeles and beyond.